Introduction
By default your theme will display your pages and child pages in the primary menu. This is okay but if you navigate to Dashboard -> Appearance -> Menus you will find a much better way to use menus in your theme.
The Wordpress menus not only give you more control on customizing what gets displayed but it is very easy to use.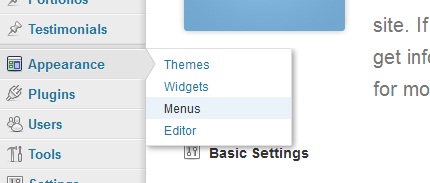 To create a new menu navigate to Dashboard -> Appearance -> Menus. You will want to type out a name for your menu in the "Menu Name" field as see in the image to the right and then click the "Create Menu" button.
After creating your menus they will be added as tabs that you can choose between as seen in the second image.


Adding pages
Now that your menu is created we will need to add links to it. On the left hand side there will be some checkboxes referring to your pages. You will want to check which pages you wish to display and then click on "Add to Menu" as seen in the first image.
The links will then be added to which ever menu you currently have selected as seen in the second image.
Once you have some links on your menu you can click and drag them around however you wish to order them. To create sub menus you will need to drag them to the left a bit so they are indented.
It is also possible to add custom links, posts, tags and other types of links to your menu also. By default they may not display so look to the top right corner of your screen and click on the "Screen Options" button to enable them.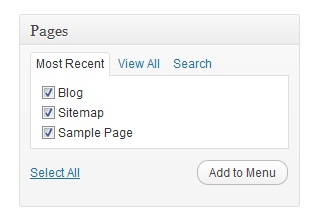 After you are done creating your menu you will need to choose a place to display it. In the top left corner you will see the areas where you can display your menu.
The primary section is your main menu area that your familiar with. You can also add a menu to the header and footer of your theme as well.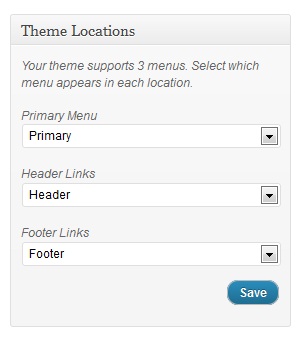 Link description
If your using the Echelon or Modular theme and you want to display extra text below each menu link then make sure to add the text in the "Description" field when editing your menu links.
If you do not see the Description field then you will need to check it to display in "Screen Options" in the top right hand corner.


Disabling a link
A common question that we get on the forums is how to disable one of the menu links (make it non clickable). To do this you will need to create a "Custom Link" and set the URL to a "#" character.
You would most likely want to do this if you have sub menus and you want the top level menu item to be disabled and act just as a hover.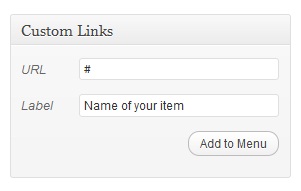 You can also use your menus with the "Custom Menu" widget. This is useful for creating navigation menus for other areas such as the footer or sidebar.
Navigate to Dashboard -> Appearance -> Widgets and you can drag the custom menu widget over to one of your sidebars and then select one of your menus in the widget as seen in the image.