Introduction
A lot of our shortcodes give you the ability to change the colors. Depending on the shortcode you can either use our 20 predefined colors or create your own with our color picker.
Color Variations
Predefined color codes:

red
orange
yellow
green
olive
teal
blue
deepblue
purple
hotpink
slategrey
mauve
pearl
steelblue
mossgreen
wheat
coffee
copper
silver
black

To use these predefined colors you will need to add variation = "color" to your shortcode. Here are some examples,

[button variation="green"][/button]
[fancy_link variation="wheat"][/fancy_link]
[colored_box variation="mauve"][/colored_box]
[dropcap1 variation="hotpink"][/dropcap1]

Color Picker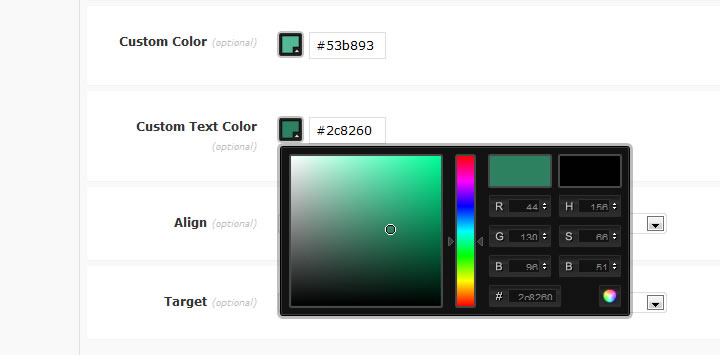 In addition to our predefined color codes you can also use the color picker to choose your own. You can find the color picker while using our shortcode generator when editing a page or post.
If you want to choose a color manually without using the shortcode generator then you would add these options to your shortcode.
Options:

bgcolor   
textcolor 

Examples:

[button bgcolor="#53b893" textcolor="#2c8260"][/button]
[fancy_link textcolor="#ba34ba"][/fancy_link]
[colored_box bgcolor="#276640" textcolor="#56d6b6"][/colored_box]