Introduction
A sitemap is like a map of your website. You will have access to every area all on one page. It's a great way for search engines to crawl your site and gain access to hard to reach posts, etc etc.
Our sitemap template will display links to all of your pages, categories, posts, portfolios, and archives.
Here are some examples: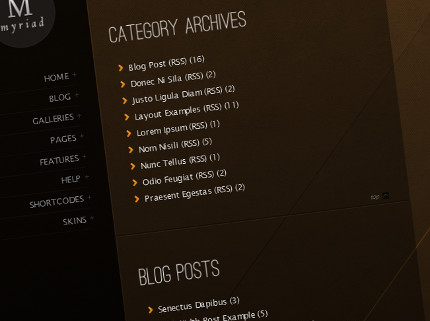 Setting a page template
Navigate to Dashboard -> Pages -> Add New to see the page edit screen. From here look on the right hand side and you'll see the "Page Attributes" meta box as seen in the image to the right.
You can switch which page template you would like your page to use here.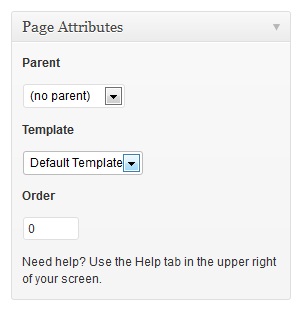 Removing areas from the sitemap
Open up /wp-content/themes/[your_theme]/lib/functions/theme.php and around lines 2800 - 2860 you will see the sitemap content.
Just delete any areas that you do not wish to display.

if ( !function_exists( 'mysite_sitemap' ) ) :
/**
 *
 */
function mysite_sitemap() {
?><div id="post-<?php the_ID(); ?>" <?php post_class( 'sitemap' ); ?>>
	<?php mysite_before_entry(); ?>
	
	<div class="entry">
	<h2><?php _e( 'Pages', MYSITE_TEXTDOMAIN );?></h2>
	<ul class="sitemap_list"><?php wp_list_pages('depth=0&sort_column=menu_order&title_li=' );
	?></ul>
	<div class="divider top"><a href="#"><?php _e( 'Top', MYSITE_TEXTDOMAIN ); ?></a></div>
	
	<h2><?php _e( 'Category Archives', MYSITE_TEXTDOMAIN ); ?></h2>
	<ul class="sitemap_list"><?php
		wp_list_categories( array(
			'exclude'=> mysite_exclude_category_string( $minus = false ),
			'feed' => __( 'RSS', MYSITE_TEXTDOMAIN ),
			'show_count' => true, 'use_desc_for_title' => false,
			'title_li' => false
		));
	?></ul>
	<div class="divider top"><a href="#"><?php _e( 'Top', MYSITE_TEXTDOMAIN ); ?></a></div>
	
	<?php $archive_query = new WP_Query( array( 'showposts' => 1000, 'category__not_in' => array( mysite_exclude_category_string( $minus = false ) ) ) );
	?><h2><?php _e( 'Blog Posts', MYSITE_TEXTDOMAIN ); ?></h2>
	<ul class="sitemap_list"><?php while ( $archive_query->have_posts() ) : $archive_query->the_post();
	?><li><a href="<?php esc_url( the_permalink() ); ?>" rel="bookmark" title="<?php printf( __( "Permanent Link to %s", MYSITE_TEXTDOMAIN ), esc_attr( get_the_title() ) ); ?>"><?php the_title();
	?></a> (<?php comments_number('0', '1', '%'); ?>)</li>
	<?php endwhile;
	?></ul>
	<div class="divider top"><a href="#"><?php _e( 'Top', MYSITE_TEXTDOMAIN ); ?></a></div>

	<?php $portfolio_query = new WP_Query( array( 'post_type' => 'portfolio','showposts' => 1000 ) );
	?><h2><?php _e( 'Portfolios', MYSITE_TEXTDOMAIN ); ?></h2>
	<ul class="sitemap_list"><?php while ( $portfolio_query->have_posts() ) : $portfolio_query->the_post();
	?><li><a href="<?php esc_url( the_permalink() ); ?>" rel="bookmark" title="<?php printf( __( "Permanent Link to %s", MYSITE_TEXTDOMAIN ), esc_attr( get_the_title() ) ); ?>"><?php the_title();
	?></a> (<?php comments_number('0', '1', '%'); ?>)</li>
	<?php endwhile;
	?></ul>
	<div class="divider top"><a href="#"><?php _e( 'Top', MYSITE_TEXTDOMAIN ); ?></a></div>

	<h2><?php _e( 'Archives', MYSITE_TEXTDOMAIN ); ?></h2>
	<ul class="sitemap_list"><?php wp_get_archives( 'type=monthly&show_post_count=true' );
	?></ul>
	<div class="divider top"><a href="#"><?php _e( 'Top', MYSITE_TEXTDOMAIN ); ?></a></div>
	
	<div class="clearboth"></div>
	<?php wp_link_pages( array( 'before' => '<div class="page_link">' . __( 'Pages:', MYSITE_TEXTDOMAIN ), 'after' => '</div>' ) ); ?>
	<?php edit_post_link( __( 'Edit', MYSITE_TEXTDOMAIN ), '<div class="edit_link">', '</div>' ); ?>
	</div><!-- .entry -->
				
	<?php mysite_after_entry(); ?>
</div><!-- #post-0 -->

<?php	
}
endif;