If this is your first time using the portfolio shortcodes then you will also want to read up on how to create portfolio posts. The portfolio shortcode will display your portfolio posts so you need to create some before hand.
Shortcode Generator
Instead of typing out your shortcode you can also use our shortcode generator. Learn More
Displaying your Portfolio
We have learned how to create portfolio categories and posts. We have also learned how to edit the portfolio posts by using options. Next we will learn how to display our posts with the portfolio shortcodes. You can use these two portfolio shortcodes anywhere so feel free to experiment.
Portfolio Grid
With the portfolio grid shortcode you can layout your posts in a grid like fashion. They will flow left to right and then move down a row when the max columns have been reached.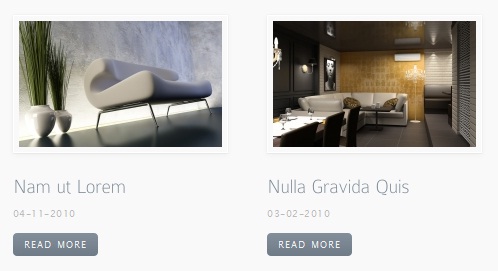 Syntax:

[portfolio_grid cat="category, category2"]

Options:

cat        // set the name of your portfolio category to display posts from that category
           // Example: cat = "web-design"
column     // the number of columns you want
showposts  // the number of posts you wish to display on a page
offset     // the offset will skip a number of posts at the beginning of your list
disable    // you can disable certain elements from displaying such as
           // image, title, excerpt ,date, more, visit, pagination

Example:

[portfolio_grid column="2" showposts="4" offset="2" disable="image,title,excerpt,date,more,visit,pagination"]

Portfolio List
Just like the portfolio grid this will list your posts in a type of list. Your posts will flow from top to bottom.
You can view some examples on our demo pages.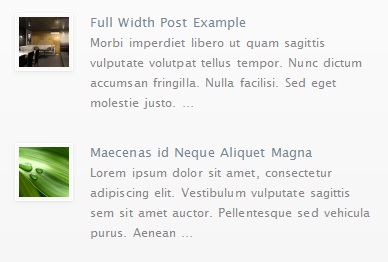 Syntax:

[portfolio_list cat="category, category2"]

Options:

cat        // set the name of your portfolio category to display posts from that category
           // Example: cat = "web-design"
thumb      // set to "small", "medium", or "large" to specify the size of your thumbnail
showposts  // the number of posts you wish to display on a page
offset     // the offset will skip a number of posts at the beginning of your list
disable    // you can disable certain elements from displaying such as
           // image, title, excerpt ,date, more, visit, pagination

Example:

[portfolio_list thumb="medium" showposts="3" offset="1" disable="image,title,excerpt,date,more,visit,pagination"]

Fancy Layout
In some of our themes such as Fusion and Myriad, we have an alternate portfolio layout called the "fancy_layout". To use this you just need to add the parameter to your shortcode like so,

[portfolio_grid fancy_layout = "true"]

See Also