Introduction
Navigate to Dashboard -> Pages -> Add New to see the page edit screen. From here scroll down until you see the "General Page Options" meta box.
This meta box holds all of the options for your page such as sidebar layout, custom background, intro settings, etc etc.
Other meta boxes that display when editing pages are the SEO options.

Sidebar layout
You can select what type of sidebar layout you would like to use for your page by clicking on the appropriate image. Currently there are three layouts you can use: full width, left sidebar, right sidebar.

Custom background
Depending on which theme your using you can upload a custom background to be used on this specific post. This image will replace your default background.
The two options beneath are for using a full screen background and having it fade in as the post is loaded.

When using a sidebar with your post you can choose one of your custom sidebars to display instead of the default. See the sidebars tab for learning how to create custom sidebars.

The breadcrumbs display near the page intro and they let the user know where they are at. Check this to disable them for the page.
You can also disable them globally in the general settings admin options tab.

Intro options
The Intro is a combination of the post title and teaser text which will display above your post and beneath your header. The default setting will be used unless you choose something else here. You can set the default behaviour in the general settings tab.
The teaser text accepts shortcodes so feel free to experiment. There is also an option for custom html in case you want to get creative.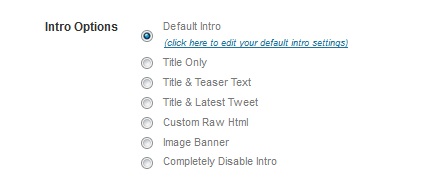 Custom CSS
This is a great place for adding quick custom styles. The code you add here will automatically be placed within style tags.
<style>...</style>
So be sure to remove those before hand.

Custom javascript
This is a great place for adding quick custom javascript code. The code you add here will automatically be placed within script tags.
<script>...</script>
So be sure to remove those before hand.