Shortcode Generator
Instead of typing out your shortcode you can also use our shortcode generator. Learn More
Blog Grid
Our blog shortcodes are a way for you to create additional blog pages or display custom post listings on your pages. You can combine the shortcodes to create some pretty interesting layouts so feel free to experiment.
The blog grid will display your posts in a grid type fashion. You can choose how many columns you want and your posts will flow from left to right and move down to the next line.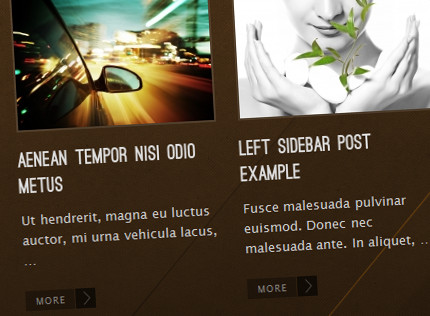 Syntax:

[blog_grid column="2" showposts="2"]

Options:

column          // number of columns you wish to display your posts in
showposts       // how many posts you wish to display in a page
offset          // this will skip a number of posts at the beginning
post_content    // set to "excerpt" or "full"
category_in     // set the category IDs that you wish to grab your posts from
pagination      // by default pagination is disabled, set to "true" if you want pagination
disable         // you can disable certain elements from your post listing here
                // image, title, content, meta, more
                // see the example below

Example:

[blog_grid column="2" showposts="2" offset="2" post_content="excerpt" category_in="3,4" pagination="true" disable="image,title,content,meta,more"]

Blog List
Like the blog grid shortcode this will list your posts but in a top down list approach instead of in columns. You can set the thumb to display as small, medium, or large.
Keep in mind that you can change the image sizes for these blog shortcodes in the image resizing tab of the admin options panel.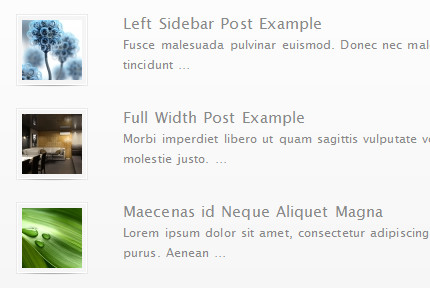 Syntax:

[blog_list thumb="large" showposts="1"]

Options:

thumb           // set to "small", "medium", or "large" to set the size of your thumbnail
showposts       // how many posts you wish to display in a page
offset          // this will skip a number of posts at the beginning
post_content    // set to "excerpt" or "full"
category_in     // set the category IDs that you wish to grab your posts from
pagination      // by default pagination is disabled, set to "true" if you want pagination
disable         // you can disable certain elements from your post listing here
                // image, title, content, meta, more
                // see the example below

Example:

[blog_list thumb="large" showposts="1" offset="1" post_content="excerpt" category_in="3" pagination="true" disable="image,title,content,meta,more"]