Our testimonial widget is a great way to display your customer testimonials. It uses a custom post type so you can easily manage and display testimonials by categories as well.

Creating your testimonials
Login to your Dashboard and on your menu to the left you should see a section called "Testimonials". This is where you will create and manage all of your testimonials.

Creating your categories
You'll want to create some categories first so click on Dashboard -> Testimonials -> Testimonial Categories. Fill out the name field and then click on the "Add new testimonial category" button to create the category. This is useful for categorizing your testimonials. As an example you may have a website selling both cars and trucks. By creating both a truck and car category you can separate your testimonials between your car and truck pages.
Using an Image
Click on Dashboard -> Testimonials -> Add New to create a new testimonial. The first thing you should see are the image fields.

If the person who filled out the testimonial has an email associated with gravatar then you can use that and have their gravatar display. If they are not registered with gravatar then a default icon will display instead.
You can also upload your own picture which will automatically be resized to 40 x 40 (depending on theme), or choose to use no image at all.
Name, Website Name, and URL

Below the image field you'll find the name, website name, and url fields. This information will display beneath the testimonial next to the image. If you do not know any of the information then just leave them blank.
Writing the testimonial

Next you will need to type out or copy the actual testimonial into this field. This is the testimonial text and will display above the customer's information.
Make sure to select a category before saving.

Displaying your testimonials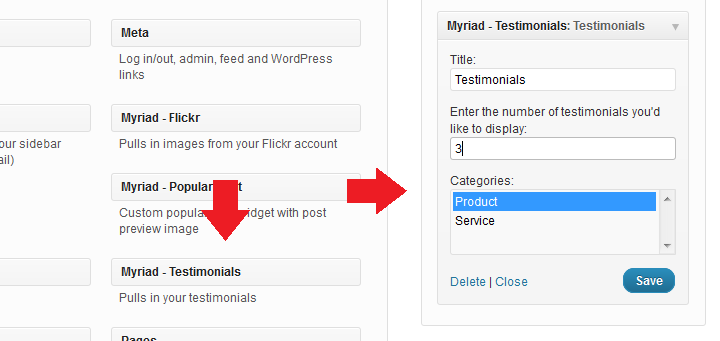 To display your testimonial you would use our "Testimonial Widget". Navigate to Dashboard -> Appearance -> Widgets and locate the widget. You will need to drag it over to one of your widget areas and fill out the information.
Make sure to select a testimonial category to use.